Thursday, June 30, 2005
finished, but the piccies suck...
Wednesday, June 29, 2005
Thanks
Hi,

Just a little message to say that I'm really proud to be a member of your blog.
However, today, I did not complete the little bear.
Thanks for your nice comments.
Hugs
Chantal


Tuesday, June 28, 2005
Pocket Animal
Here's my version of one of the Pocket Animal birds. He took no time at all to make, and I think he's rather cute, if I do say so myself.
I'm Chantal
I tried often to add a blog.... I lost my password, after recovering, I did not know how to do....GGRRR....
Now, I'm here and I'm really in love with the amigurumi ; however, I'm making them as miniatures.....yes...
I have a few pictures, but how to post them.... ????? I will try....
I'm a teddy bear artist and all my "babies" are my pattern. Here in that part of Canada.... it's very difficult to find something like that, believe me. So, tired to search, I decided to draw and make the patterns by myself.
I made a little bear, Keiko :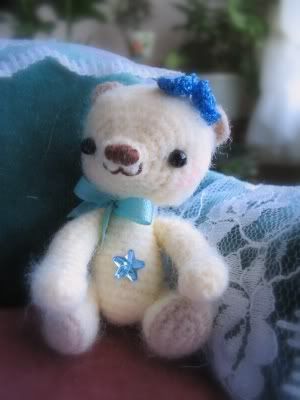 And a little dog, Keedo :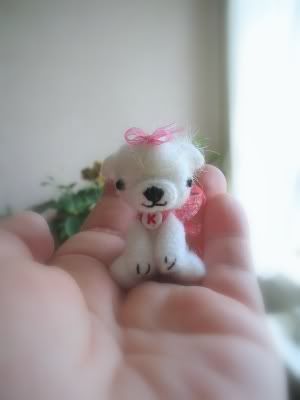 I hope that I was allowed to publish pictures in the blog ; if I'm wrong, forgive me. I'm really happy to find the blog about amigurumi because I need INSPIRATION..;o))
I'm making now another little bear..... I will show you the result
Thanks to accept me in your group.
Beary Hugs
Chantal
Monday, June 27, 2005
Ok - I'm on it!
I started a baby harp seal and am about 1/2 complete. My 6yo daughter and I sketched some faces and have agreed on our Ami-seal face. I should finish with the next couple of days and I'll be sure to post a photo. I just wanted to make sure you knew I was in! ;)


Saturday, June 25, 2005
Inspiration
Alisha found
this site
for me to add to the "inspiration" section on the left. It's great and you should go look at it.
Thanks Alisha!
started...
Thursday, June 23, 2005
Introducing Mio
Saturday, June 18, 2005
Ostrich in progress
(Click on the photo for a bigger one)
I'm working on an ostrich from one of my Japanese amigurumi books. At first, I thought what I was working on was just the neck, but it appears to be the head, too. So now I wonder what the "extra" chart is for. Hm... The top of the beak, I think? I guess I'll find out!
Friday, June 17, 2005
Done
Garu is finished now to do Mio the cat. Sorry for the big pic before : )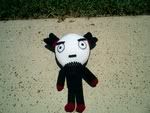 What's an amigurumi?
Good question.
The answer? In short, they're crocheted (or knitted or sewn) soft toys. I've seen almost anything called amigurumi, from bears to monsters to birds to trucks to cupcakes to bugs to dragons to fruit to cats and anything in between.
If you have a look at these Japanese books (on eBay, but tons of photos), that should give you a pretty good idea of the range of stuff!
Book 1
Book 2
Book 3
Book 4
Book 5
(I own the first two books - I can't read them, but I can usually read the charts! :)
Get creative! What's your favorite animal? What's your favorite color? Put those together and see what kind of fun, goofy anigurumi you can come up with!
Thursday, June 16, 2005
What I'm making
I'm almost done making Garu and then plan on making his kitty Mio. I'm thrilled to be in this crochet along for 1 someone else understands my making toys & dolls and 2 it's nice to not feel like a total weirdo because I have the compulsion to crochet these things.


The rules
The Amigurumi-Along is meant to be a fun time for all, so join in and have fun!
SIGN-UP FOR THE AMIGURUMI-ALONG IS CLOSED
To join:

Email Jessica with "Amigurumi-Along" in the subject of your email.
Jessica will send you an invitation to join the Amigurumi-Along blog. You must accept the invitation to join.
To participate:
Find your favorite soft toy pattern and get hooking!
Post to the blog - successes, frustrations, progress pictures, etc.
Photos should be hosted on your own server or on a free service (like Flickr)
Have suggestions for the blog design or links to add? Email Jessica.
Have fun!
--Jessica
Welcome!
Welcome to the Amigurumi-Along!