Tuesday, June 28, 2005
I'm Chantal
I tried often to add a blog.... I lost my password, after recovering, I did not know how to do....GGRRR....
Now, I'm here and I'm really in love with the amigurumi ; however, I'm making them as miniatures.....yes...
I have a few pictures, but how to post them.... ????? I will try....
I'm a teddy bear artist and all my "babies" are my pattern. Here in that part of Canada.... it's very difficult to find something like that, believe me. So, tired to search, I decided to draw and make the patterns by myself.
I made a little bear, Keiko :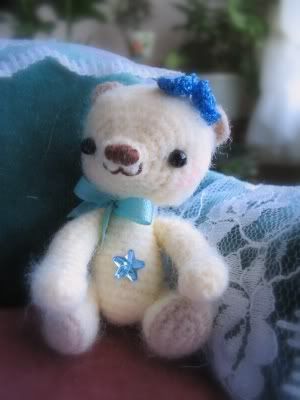 And a little dog, Keedo :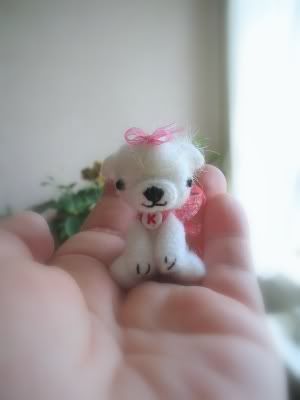 I hope that I was allowed to publish pictures in the blog ; if I'm wrong, forgive me. I'm really happy to find the blog about amigurumi because I need INSPIRATION..;o))
I'm making now another little bear..... I will show you the result
Thanks to accept me in your group.
Beary Hugs
Chantal
Comments:
Hi,
I love your creation they r so cute.I started to use thread to crochet my own desgin and I'm working on a bear amigurumi I found how difficult it is to use thread and smaller hooks.They hurt your fingers cause the ami r suppose to be real tight.I'm from toronto canada i know what u mean about not being able to find amigurumi books i had to order mine from a korean book store it arrive 2wks later from korea the patterns r not part of the japanese series but they r really adorable. Do u sell your tiny bears? they r beautiful.Keep me posted with your latest desgins.
Post a Comment
<< Home