Monday, August 29, 2005
Technicolor Bird
technicolor bird -right profile
Originally uploaded by m patrizio.
I had a beak laying around that I never used, so I decided to add a body, some buggish wings and felt legs and made Technicolor Bird!
Another one!
Well.. I made another one yesterday while watching movies with the hubby x)
I like this one better, plus the colour makes it more real I think... anyway...
Thursday, August 25, 2005
The Finished Bear Trio
Well, I decided on embroidery with black yarn for the facial features. This way they can be given to small children. I may add some fun scarves for the cold winter we will have in Florida soon. ha ha
Wednesday, August 24, 2005
No eyes or nose yet...
Hello everyone, I'm new to this blog site. I just finished my first two little bears with thread jointed arms and legs, but when it came time to do their faces, I couldn't decide whether to add real doll eyes, or embroider the features. HELP! I guess I could go to the craft store to see if they sell doll/bear eyes, but shouldn't I have put them on before I stuffed? Do you put the safety eyes on before the filling goes in? Thanks for your advice. I'm quite new at this, but found it to be a lot of fun once I figured out how to keep track of my crocheted rounds. :)
Little bear
Well.. I know it's not exactly a cute amigurumi, but this is the far I can get (by now mwahahaha cause I will keep trying!).
Hope you like it anyway :D I made it without pattern and the little nose+eyes are small beads that you can hardly see :(
The process
+
Finnished
+
Ready for winter!
<3 Veronica
Tuesday, August 23, 2005
finished mouse
here's the finished mouse- i just used extra brown yarn
for both the mouth and the face. i didn't have any buttons.
Monday, August 22, 2005
unfinished mouse
my mother-in-law actually helped my with this one so i kind of get the idea. not quite finished. i just have to put the eyes and embroider the mouth.
Saturday, August 20, 2005
Introducing Marble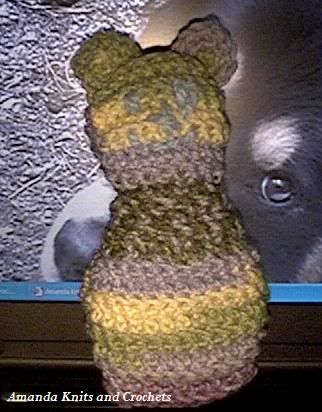 She is in the peep pattern style but she it a little bear like with her cute little round ears. She is made with Crochet hook US F, Red Heart Classic color Water Colors. She is 6 inches tall including the ears.
starting amigurimi
i'm beginning my very first amigurimi but it really looks like i'm doing something wrong because there are visible holes and it doesn't look like it does in the picture.
does anyone have any advice on what i may be doing wrong?
Friday, August 19, 2005
hello kitty 2
hi
my name 's laurence and I 'm french
my friend oslofia send me the link amigurumi-along we are hello kitty fan both!
so this is my small hello kitty version in my hand
I like small projects, all that is small is cute!!
is there another french girl here
Sunday, August 14, 2005
My amigurumi design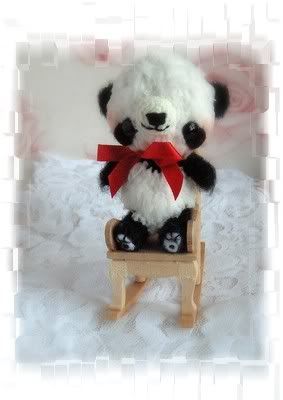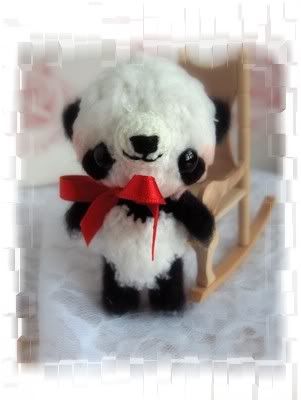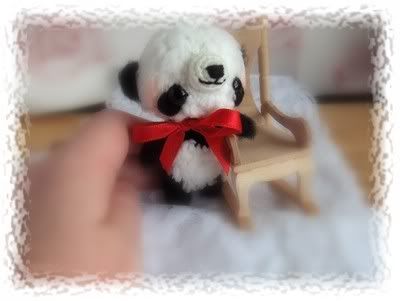 After try and mistake, I finally complete my little panda ; his name is Kaichou and he will be on Ebay soon.
The blog is really great and everybody is doing a great job.
have a nice day and see you soon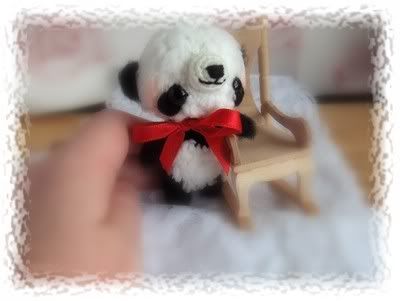 Amigurumi Bear
Here's my first attempt at an Amigurumi! He is done in worsted weight yarn so he is not a miniature bear but I did use an actual Amigurumi pattern to make him. I think I may sew on a black button for a nose but other than that he is finished. :) I stuffed a nylon full of "baby fat" beads to give him some weight in his bottom so he sits very nicely. My daughter loves him. :)
Thursday, August 11, 2005
Grinch Head...
Although it is August my husband likes to start getting Christmas movies and music together in a collection so we can let they play November and December. One of the movies he is putting into his collection is the new Grinch movie with Jim Carrey. In the spirit of the moment I made this...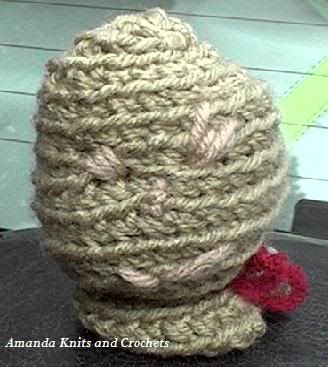 I plan on making him a little Christmas hat and attaching a hook to the back of his head so he can hang on the tree. He is single crochet in round.
Wednesday, August 03, 2005
Sugar