Saturday, July 30, 2005
UgliBunni
In case there are those of you who are hesitant about sharing your creations, let me introduce you to UgliBunni:
I made her freeform, and, well, she just didn't turn out like I pictured. I think if I'd gone with a squatter body and worked on my embroidery skills, she wouldn't be so bad, but ...
So don't be afraid to post
anything
you come up with. UgliBunni would enjoy the company. :)
Wednesday, July 27, 2005
meet polar pig
polar pig
Originally uploaded by m patrizio.
Polar pig looks just like the pigs in the window in one of celeste's pics! And I was thinking that a white pig was original!:( Oh well, at least the ears are unique - which was my mother's idea. You can see more of my creatures
here
FOUND: Amigurimi!
Greetings, all!
I was in Vancouver, B.C. recently and found a craft store with a full-on Amigurumi display in their window:
Upon entering, I was excited to find a collection of Amigurumi books - and I, of course, purchased one. My friend Fenny tells me that the title actually says "Amigurumi":
I also found some other examples of Amigurumi in the shopping center. I have some photos of them as well as more pages from my Amigurumi book on
my blog entry.
Guess who I was thinking of while I was shopping?
Sorry, Alicia, I didn't have any Canadian currency left or I would have purchased this for you. I'm not even sure what it was - maybe a lunchbag?
Saturday, July 23, 2005
Hi everyone!

Originally uploaded by m patrizio.
I'm Marilyn and this is Metal Mouse. I designed and created him myself. I hope you like him :)
Tuesday, July 19, 2005
Hi!
I know I haven't introduced myself, thought I'd do that now. I don't know when I discovered Amigurumi, but I've been in love with it since then. It's the small things that make me smile, and the cute little animals certainly accomplish that. For this crochet along, I'm going to be making (well, finishing!) a puppy.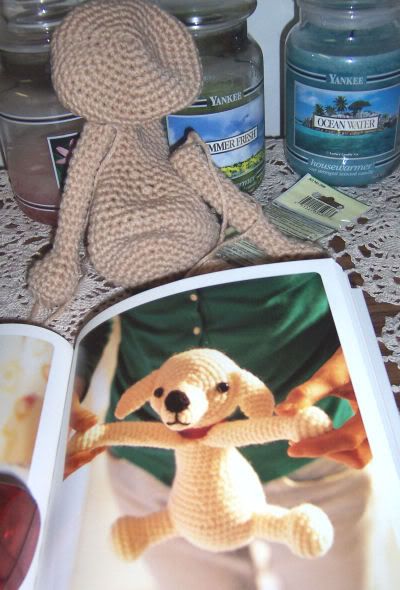 Isn't he cute? I'm going to name him Earl when he's finished :) He's only in need of a tail, ears, a nose, and then I can start sewing him up.
Sunday, July 17, 2005
Sea creatures
This is what happens when you start crocheting & let your hook run wild. The octopus Olga started it all & I ended up with Shelby the Sea turtle & Sushi the squid. I don't care for the eyes on the turtle at all, other than that I'm pleased with them. You can get the octopus pattern for free on my blog or at crochetville.I'm planning on typing up patterns for the others soon.
Friday, July 15, 2005
Hi there
Hi i just wanted to introduce myself my name is Allena, i just joined this amigurumi along!
i love all the Amigurumi you've all been making they're so CUTE! I've just started to crochet some little friends.
the green and purple one is a mouse.. i haven't decided what to name him and the pink and purple one is supposed to be a porcupine but i think he looks more like a hedgehog! so i've named him Punk. any suggestions as to what to name the mouse?my DD#2 just loves them! so does my older daughter! i used this pattern
here
and i used double strands of worsted weight yarn i had left over and laying around... it's so addicting to make these little guys.. LOL
Here's my home
blog...
i'd love to have you stop by! anyways just wanted to say hello!
have a great day!
Monday, July 11, 2005
Les Doudous....
Celeste has informed me that I need to comment on my most recent purchase! I bravely faced the perils of the French book store FNAC this weekend and picked up these two books by author Cendrine Armani:
(Both are clickable for a larger view!!)
I am sure that you are scratching your head and saying "Doudous?????" We are not talking about Doggie Doo-Doo here! Doudou is a french slang word, so there is no exact translation - in a basic sense, it is the word used for a childs security toy.
There are some more details on my blog about these books. I searched Amazon and someone is selling them for $30+ each! I purchased them for $19 each (nice markup eh?). Pattern books seem to be more expensive here in Europe....first expensive yarn now expensive patterns - I can not win! :) I am going to try out a few patterns in the next few weeks (need to buy the correct materials) and will let everyone know how much FUN it is to crochet in French when you are not a native french speaker.......what was I thinking when I bought these???? Oh yeah, they are really cute!!
Friday, July 08, 2005
Target the Chipmunk
Hello! Just to quickly introduce myself first, I'm Kimberly, an American living in Brussels Belgium! I finished my first ever amigurumi...or any type of animal creation for that matter last night. I chose to do a pattern from the Forest Friends, and the result is my very own Target the Chipmunk!
More details on the delightful Target (and where his name came from!) are available on my blog:
The City of Crochet
Wednesday, July 06, 2005
Meet Merboy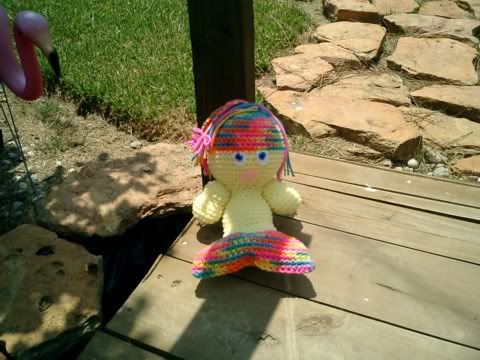 Who knew this would end up being a Mermaid and a boy in the end. Just goes to show how much fun it is to just crochet and see what you come up with.
Hello Kitty
Hi,
My name is Oslofia, and I live in Sweden with my bf and our beautiful daughter. You can read more about me and my crafts at my
blog - Oslofia Stitching Away.
I joined the
Amigurumi Along
today...and I had to start on my first project as soon as I was signed up. I took the picture with my mobile, so it is a bit blury. Anyways, the result was yet another Hello Kitty thingy...no I mean Amigurumi, and she ended up being about 8 cm / 3 inches in lenght. I think that I'll put her on my handbag strap...far away from my 2 year old bulldozer. I think that it could be really cute to make it with thinner yarn and smaller hook, and turn this little baby into a little mobile charm.
I want to make more of these cute small Amigurumi dolls, and I think that Keroppi or Cinamoroll is up next =)
Monday, July 04, 2005
Hello all!
My name is Amanda (aka ttbookjunkie) and I just joined your CAL. I love making toys and up until now I have mainly knitted toys of all sorts. I just recently learned to crochet and I have to admit I am loving it. I plan on making the busy bee (found the free pattern in the links in the sidebar) and the Amigurumi Bunny (also found the free pattern in the sidebar).
I live in the mountains of Colorado with my husband and my pup Maverick (he is a 3 year old border collie). I blog at
ttbookjunkie knits
for all my crafts right now but I am currently working on an all crochet blog.
Happy Crocheting all!
Amanda
Friday, July 01, 2005
Monkey monkey
Believe it or not, this was originally supposed to be a chicken, but something went wrong. So I just went with it and made a little monkey instead.